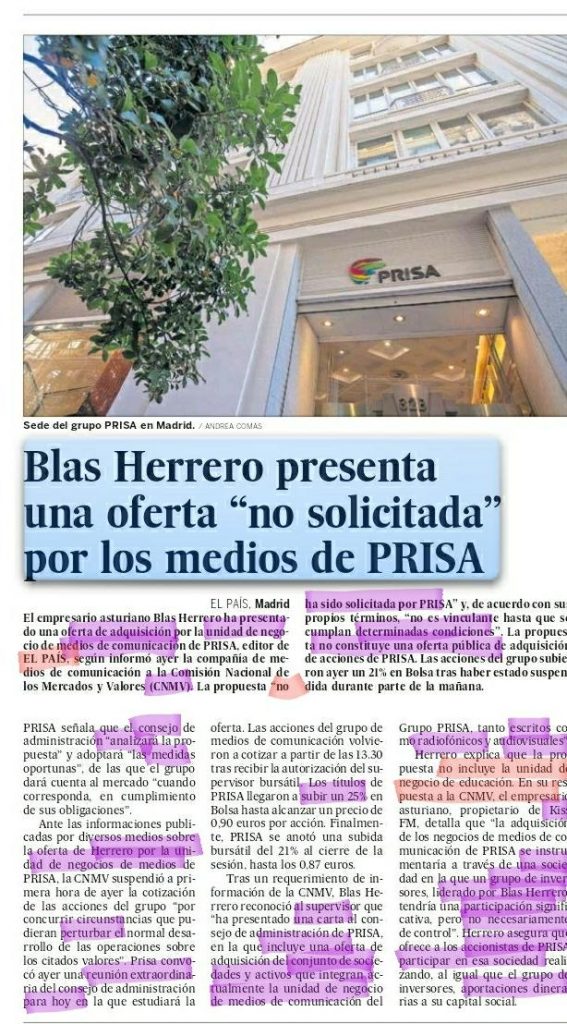 "El País" may change hands. Blas Herrero has presented PRISA with an offer to acquire its media business unit.as reported by the CNMV on its website.
The proposal is for the acquisition of assets and does not constitute a takeover bid. It is only for the acquisition of a business unit.
The proposal does not include the education business unit.
The CNMV suspended trading in the shares of the PRISA group early yesterday. They resumed trading at 13.30. PRISA shares reached 0.90 euros per share and by the end of the day were up 21% (0.87 euros).
It is impossible to know which shareholders took the opportunity to sell and run out of the company. If the trend continues, a buyer of shares may end up destabilizing the board to the limit of the takeover bid.
The acquisition of PRISA's media businesses will be implemented through a company in which a group of investors, led by Blas Herrero, will have a significant, but not necessarily controlling, stake.
If you own PRISA shares and would like legal advice (not financial) on the ongoing process based on the information that will be made public, please contact us on 925767979 or use the form below: